Free Your Smile
Ethical dentistry for a healthier, happier you.
"*" indicates required fields
Boost Your Wellness + Smile
Achieve optimal health and exude confidence for the rest of your life.
Caldwell Dentistry Co. is your go-to family dentistry and wellness. We are here to boost your teeth's wellness and smile to achieve optimal health and exude confidence for the rest of your life. We are dedicated to helping you put your best smile forward through comprehensive systemic health and individualized preventative dental care.
We offer top-notch and reliable dental services for your dental care needs. Our professional and expert team will also ensure that, with a combination of modern technology and skills, we will show you how oral health directly impacts your overall health.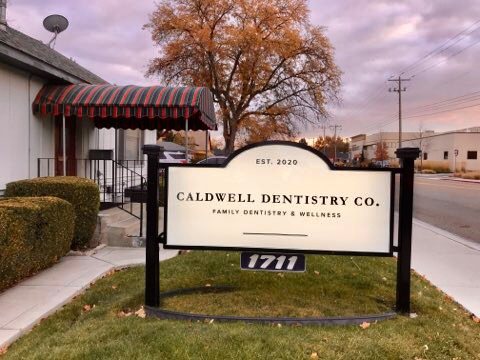 Our Dental Services
Here at Caldwell Dentistry Co., we are dedicated to providing exceptional dental care to the Caldwell community and its surrounding areas. With our team of highly skilled professionals and up-to-date and outstanding facilities, we strive to deliver personalized treatments that cater to our client's unique dental needs. Your oral health and overall wellness are our top priorities.
We offer the following services for well-rounded care and a personalized and comfortable experience.
N

Comprehensive Exams

N

Hygiene

N

Periodontal Therapy

N

Oral Cancer Screenings

N

Sealants

N

Sedation Dentistry

N

Root Canals

N

Nightguards + Mouthguards
N

Teeth Whitening

N

Dental Bonding

N

Porcelain Veneers
N

Metal-Free Fillings

N

Crowns & Bridges

N

Dentures

N

Dental Implants

N

Extractions

N

TMJ

N

Full Mouth Reconstruction

N

Inlays & Onlays
Meet Your Caldwell Dentist
Caldwell Dentistry Co.'s expert approach to dentistry goes beyond teeth. We truly and sincerely care about you. That is why we are committed to helping you live a longer, healthier, and more confident life through comprehensive dentistry. With our top-notch and trusted dental treatments in Caldwell, ID, we hope that we can help you be more healthy and confident.
''I would explain to patients that at the end of the day, I am here to examine and inform you what is going on with your oral health. It is up to you and me to decide what is the best treatment course customized for you. I treat every patient as an individual.'"
N

University of Notre Dame, B.S.

N

University of the Pacific Arthur A. Dugoni School of Dentistry, D.D.S.

N

Dr. Friedrich has worked as a general dentist at Mission Dental Group SF in San Francisco, Valley Esthetics Dentistry in Modesto, CA, and River Oak Dental Spa in Oakdale.
When you choose Caldwell Dentistry Co., you can guarantee personalized attention, gentle care, and a welcoming atmosphere. Trust that our team will take the time to listen to your concerns and provide tailored treatment plans that address your unique dental goals. We are committed to delivering exceptional results and exceeding your expectations at every visit.
Take the first step towards optimal oral health and a confident, sincere smile. Contact Caldwell Dentistry Co. at (208) 454-9217 today to schedule your full mouth rehabilitation in Caldwell, ID. We will gladly welcome new patients and look forward to delivering you the outstanding dental care you deserve.
Caldwell Dentistry Co. proudly serves our neighboring communities, including Nampa, Parma, Middleton, and Meridian.
"*" indicates required fields